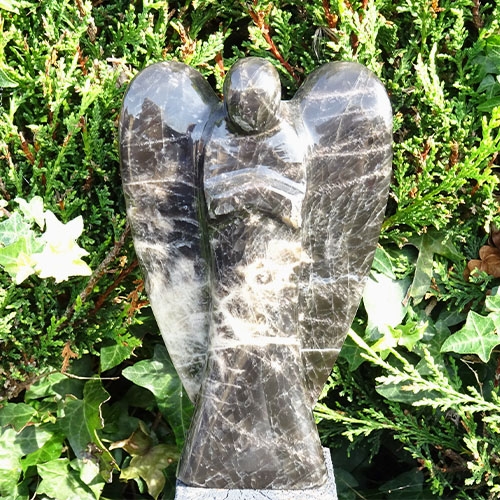 *COLLECTOR'S HOME SHOWPIECE* Black Moonstone Angel ~ Large
This is an absolutely STUNNING, highly polished, LARGE Angel in Black Moonstone that carries a powerful energy. She's about the length of my forearm. As I walked past her, it was like being pulled energetically back towards her and once I'd seen the flash that ripples across the entire front of this amazing piece, that was it. She had to come home. They say angels don't have a gender, but this piece definitely represents feminine power and Goddess energy. She flew into my mind over and over and over again to the point I nearly kept her!
I find this crystal fascinating, the energy is really powerful, but in a dreamy, feminine way. This Angel has SO much going on under the surface, tons of rainbows and a great deal of golden/peachy flash, it's just difficult to photograph or even capture in a video. I guarantee you won't be disappointed in person.
Black Moonstone is very protective. It is extremely supportive during times of healing and growth and this is on a mental, emotional and physical level as it's a fabulous balancer of our hormones in later life and directs us towards the best care for our health at that time (please read my informative blog on Menopause ~ What They Don't Tell You).
Black Moonstone is said to stimulate the Pineal Gland, opening up our awareness and teaching us how to heighten and use our intuition. Black Moonstone also symbolises loyalty ~ both to our own integrity and to others. It is great for balancing hormones and therefore our moods and seems to work on far deeper levels than Rainbow Moonstone. By this I mean that Rainbow Moonstone is more suited hormonally when we're younger, whereas Black Moonstone seems to have a much stronger effect once we're older, menopausal and moving into a deeper relationship with our own feminine aspects and Goddess qualities on an energetic level. As we move from Maiden to Crone, this beautiful mineral seems to come alive and I worked with mine for many months whilst rebalancing my emotions, physical body and the spiritual growth that comes with this phase in our lives. It's also a brilliant energy to work with if you're a woman whom has spent a lot of time in her masculine energy in order to get things done in life. Slowly, but surely, Black Moonstone leads you back to your true power as a woman and the realms of intuition, emotion, compassion, nurturing and creativity.
I would use this crystal if I were working with aspects of myself that I find difficult to accept. It is a great stone for silencing that inner, negative, self critic we all have. It's also a fantastic divination tool, connected us deeply to the wisdom of Mother Earth and our female ancestors. If you're working on clearing past, generational or ancestral patterns and lines within your own family, then you won't find a better mineral to work with from the feminine aspect. When working to clear anything from the past, I'd team Black Moonstone with Ancestralite as it creates the perfect balance of feminine and masculine energies that allow our ancestors in Spirit to draw close in guidance and support. Be mindful to have something such as a grounding crystal or food nearby if working with this suggested combination as both of these crystals are really strong on their own, so create one heck on an energy when combined together that leave me feeling absolutely blown away, but like I immediately need to get my feet on the ground or anchor myself back down to Earth. If you're shamanic or drawn to work with Earth energies, definitely experiment with these two minerals on their own and then together.
Black Moonstone is also excellent for Shadow work as it shows us what is in our shadow that we cannot see, why we placed those aspects of ourselves into the shadows in the first place and supports us in integrating them back into our conscious mind and daily lives. Many feel shadow work is about diving into our darkness and it can often feel that way. However, when we dive into the darkness, it's always to find our light and there is no better mineral to support us in this work than Black Moonstone in my experience.
To read my informative, detailed blog on Black Moonstone, please click Here.
You will receive the crystal in the photograph. Approx 20cm tall (200mm) X 12cm wide (120mm). Please select tracked/insured post if ordering from overseas as we'd want to ensure this piece was covered in case of loss or damage.