One of the questions I often get asked is 'How do I feel a crystal?'.
I meet many people that do not feel anything from crystals on a physical level. If you fall into this category, please don't worry ~ only 15% of the population is said to be able to 'feel' crystals with their hands. Whether we can feel them or not is based purely on our base vibration as a human being. Some people have very low vibrations, some have very high vibrations so some people can feel or sense other frequencies and some cannot (in this instance, a low or high base vibration has no correlation to how spiritually advanced we may be).
My base vibration is generally very low, my blood pressure has always been low (even whilst giving birth!), my heart beat is slightly slower and my resting body temperature is also slightly lower than the norm. I think this is one of the reasons I can easily sense and pick things up from crystals (purely my own thoughts on the matter, I have no references for this other than a gut feeling). I cannot work with Hematite as it has such a low, dense vibration and pulls my natural state way too low to handle, making me feel sick. When I work spiritually however, it seems that my low, base vibration is what keeps me grounded and anchored as everything else goes through the roof! Its very odd and I find it all fascinating 😉
If you're not sure how to feel a crystal on a physical level, all you have to do is wander around a crystal shop and see what you are drawn to. If you simply want to test whether you can feel crystals or not, work with Moldavite, Selenite or Shungite. These all have very high vibrations, so if you're going to feel a crystal, these may elicit some form of sensation.
Try hovering your hand a few centimetres above any crystal that catches your eye. I recommend doing this with your left hand as energy tends to enter the body on our left hand side and exit the body on the right ~ this is why many reiki therapists will automatically put their right hand out to give reiki, even if they are left handed. It isn't something a lot of people are conscious of and there will always be those that work the other way round. However, the majority will sense more when 'feeling' things with their left hand rather than their right. Try it with one hand, then the other and see if either of them work.
When hovering their hand over a crystal, some people feel warmth in the palm of their hand, others feel cold, some may feel a tingle or pulse ~ we are all different, so will feel them in different ways. However, the sense is that generally, you will feel something in your hand on a physical, tangible level. Generally for me, heat tends to indicate that a crystal is working on a physical level, tingling indicates it is spiritual and cold is most definitely working on an emotional or mental issue. Again, we are all different in this, but I've found it is very helpful to learn what the different sensations mean to us as individuals.
If you aren't certain you're feeling anything when hovering a hand over a crystal, pick it up and hold it gently in the palm of your left hand without closing your fingers around it. Give it a minute and see whether you can feel anything then.
At this point, some people may begin to feel a tingle or sensation moving from their hand an up their arm. Others may feel a sensation somewhere else in their body as the energy of the crystal goes directly to the source of energetic imbalance and starts to do it's work. Sometimes we may feel a crystal stimulating our chakra system, so for example, may feel light headed or floaty around the head and third eye area between our eyebrows. I will often feel an emotion when holding a crystal too, such as joy, happiness, confidence or strength.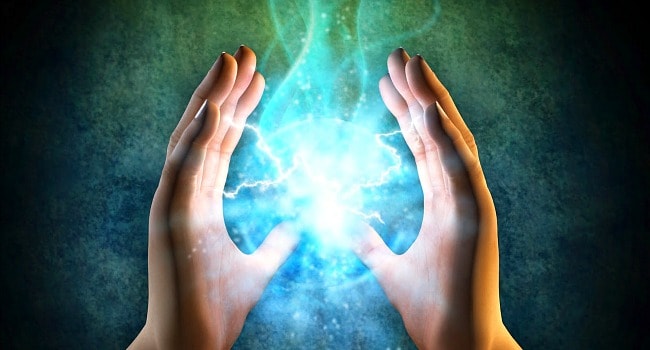 If you've tried the above and don't feel anything at all, but are still strangely drawn to crystals, I would recommend working with them visually. On a spiritual level, not everyone 'feel's.  Some people 'see' so will be drawn to the colour, size or shape of a crystal. They won't be able to feel anything on a physical level, but they will keep coming back to a crystal as the image, colour or patterning ~ something on a visual level has stayed clearly in their mind. Its the same with those who work on auditory levels ~ they won't feel anything, they won't have images or visual prompts to connect them to a crystal, but they will hear things in their mind, words or information that will draw them back to the crystal time and time again until they have to work with it.
You may not experience any of the above, but that doesn't mean that crystals aren't for you. They are still vibrating and working with your energy system, you just can't feel it. In this instance, it's about trusting your intuition and following your gut. When talking to people about their love of crystals, so many of them say 'I don't know why am drawn to them, I just like them'. However, if you can remember when you obtained a crystal and look up what that crystal means ~ it will always correlate to whatever is happening in your life at that time.
So when it comes to choosing a crystal, simply go with your gut. Whether its because you felt something, because it looks pretty, because it makes you smile, because it causes you to think or feel someting…..how you are drawn to it doesn't matter, its WHY you are drawn to it that's important.
If you aren't sure, walk away for awhile. If something is meant for you, it will keep popping up in your mind, niggling until you have to go back and purchase it. Or walk away and go and do some research, find out why you're being drawn to a particular crystal ~ if it resonates with whatever is going on in your life at that time, go back and buy it. There is a reason our intuition leads us to these beautiful metaphysical tools. Crystals are made of the same chemicals we are and have similar vibrations to our own, so they can help immensely!
Many people like to feel crystals or see them in person rather than buying online, but purchasing from a distance sort've works the same way. You'll see something online and it will keep niggling at you because you are meant to work together, so trust that feeling (as long as it is a safe/reputable website or seller). If you're cautious, leave it for a week and do the research mentioned above. You'll be brought back to that crystal again and again if it is meant to be.
I hope you've found the above helpful. Have a wonderful day
Bright blessings
Krissy XXX