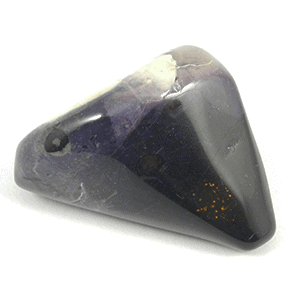 Tiffany Stone – RARE AA Grade – Polished – Item E
This is a beautifully polished piece of Tiffany Stone that is AAA Grade (highest). This is an extremely rare mineral, said to be Opalized Fluorite and sometimes called Bertrandite. To find this mineral in small, polished, hand held form that can be carried easily in a pocket is very rare and at this level of quality & vibration, even rarer!
The rough pieces of this beautiful mineral feel quite different to the polished, which is highly unusual. If you'd like to know more, please Click Here for my informative blog on Tiffany Stone.
Tiffany Stone is primarily a third eye stone. It raises the vibrations in our head so we can receive, interpret and communicate psychic or spiritual information to the best of our ability. It works in a subtle, gentle way, but achieves highly vibrational results. Tiffany Stone can clear our energetic body of any blockages or negativity and is a fantastic stone to use during times of great pressure, stress or change. Fluorite is known for being the crystal to bring order to chaos. Tiffany Stone, having been Fluorite that has now opalised, allows these changes to be processed on deep, soul changing levels. It is said that this stone boosts our sex drive and libido (way hey!!) 😉
You will receive the crystal in the photograph. Approx 3.2cm (32mm) long X 2.9cm (29mm) wide.