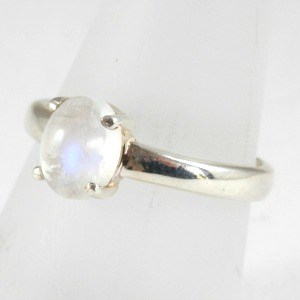 Rainbow Moonstone Ring – Item F – Size N-UK, 7-US, 54-EU
This is a stunning Rainbow Moonstone ring set in thick Sterling Silver ~ the flash is very hard to photograph, but there is lovely blue flash on this daintier design.
If you'd like to read my blog on Moonstone, please Click Here.
Moonstone is known as the 'Women's Stone' as it balances and promotes health with hormones, PMT, monthly cycles, pregnancy, breast feeding, childbirth and menopause. Moonstone gently draws in feminine energies and opens up our intuitive gifts. It is perfect for conception and fertility.
Approx stone size 0.8cm (8mm) long X 0.6cm (6mm) wide. Ring size is in the main heading above. You will receive the ring in the photograph. I accept returns, no questions asked. Please note however that I do not offer a try before you buy service. People have taken advantage of this in the past and I've had to decline any further custom from them.
Please only purchase if the ring is your size or close to it. Obviously with rings, they have to fit comfortably, so am happy to exchange/refund no problem, but please respect this service. Thank you 🙂