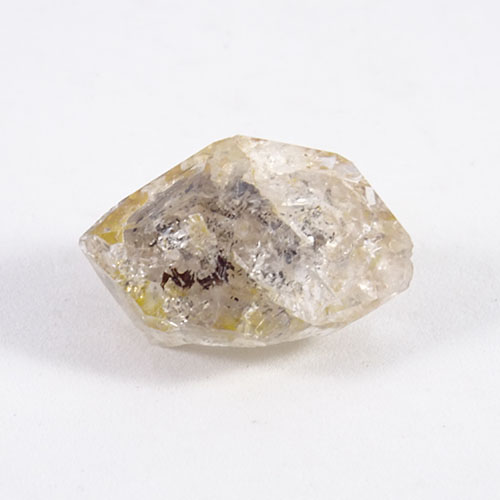 Herkimer Diamond – ULTRA RARE – Item G
This is a stunning Herkimer Diamond from the latest harvest of the Ace of Diamonds Mine in Middleville, New York. Long gone are the days when we had crystal clear Herkimers with no inclusions in them at all. The demand for them is so high, the mine's are only able to harvest small amounts each year as it actually takes decades for larger pieces to grow. Unless a new pocket is found, deep within a mine, the fields of smaller crystals have to be left to continue to grow and this takes many years. Hence the price for these precious gemstones has gone through the roof as demand has exceeded supply. This is the first batch of new Herkimers I've been able to source in 2022 and I don't imagine they will be around long. For me, Herkimers are still one of the highest and most effective energies to work with outside of Moldavite, Brandbergs & Trapiche Amethyst. They are magical and beautiful in how they support us through deep transformation and spiritual growth. Each piece is unique with a variety of inclusions, sparkle and rainbows within them. Please check sizing carefully
The energy of Herkimers is quite high, so please make sure you're used to high energy crystals before working with a Herkimer. I recommend having some grounding crystals nearby and food to ground your physical body after working with them. Click Here if you'd like to read my informative blog on Herkimer Diamonds.
Herkimer Diamonds are sought the world over by collectors and for their Metaphysical properties. All of my Herkimer Diamonds come from Private Miners on land in Herkimer County, New York, USA. ALL mined by Hand and these ones are from a particular mine known as the Ace of Diamonds Mine.  These amazing crystals get their name because they are similar in shape and clarity and sparkle to real diamonds. They are named after the County in which they were found in upstate, NY and the Town of Herkimer, named after a Revolutionary war officer.
Herkimer Diamonds are known as the stone of "attunement" for Reiki and other Energy healing & Metaphysical practices. They are also said to be stones of inner vision. They are useful in dream work, energy work and meditation. When put between any two chakras they will help align and attune the energy of those chakras.  In addition, they have the ability to store information and energy, so that they are readily programed to release the information or energy at a later time. They are amazing tools for expanding ones consciousness & exploring your spiritual gifts & abilities. I would not be without mine, it is one of the most effective tools in my crystal kit.
Approx 2.5cm (25mm) long X 1.5cm (15mm) wide. You will receive the crystal in the photograph. Please check sizing carefully as Herkimers are small.