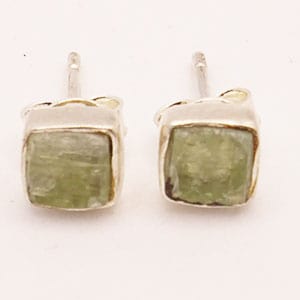 Green Kyanite Studs – Item D
This is a lovely pair of rare Green Kyanite studs set in thick Sterling Silver. This mineral has the most beautiful, fresh, clean, crisp, Earth energy. It's difficult to find nice quality, vibrant pieces of this mineral in jewellery, let alone in stud earrings, so I'm delighted to be able to stock these.
Click Here if you'd like to read my informative blog on Kyanite.
I find Green Kyanite to be a deeply healing crystal, connecting to Nature, the nature elementals and Arch Angel Raphael. Green Kyanite creates a bridge between oneself and the energies of Nature. Helps one to feel the ever-moving flow of balance, the life force of the Universe. Connects one to the truth of the heart and allows us to see through the veils of illusion and dishonesty. A great crystal to use when working with one's shadow self or ego. It soothes the circulatory system and heart, lowering blood pressure.
Approx size of stone 0.5cm (5mm) long X 0.5cm (5mm) wide – You will receive the studs in the photograph.