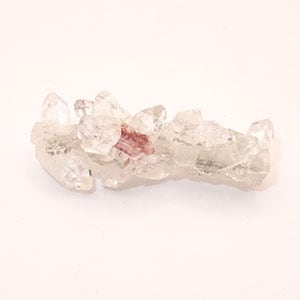 Apophyllite Stalactite – RARE – Item P
This is a stunning piece of pure Apophyllite Stalactite, which would have taken 1000s of years to form. The energy is really fizzy & uplifting, it touches the emotions and draws Universal energy into the system by the bucketload! These pieces are so incredibly rare and feel like I'm holding a piece of history of the Earth. These are small sized pieces, most of which are the end of the stalactite, so covered in druzy little points ~ or they may be a central section of the Stalactite, which is easy to see in the photograph.
Please click here if you would like to read my informative blog on Apophyllite.
Apophyllite is one of THE best tools for healers or reiki practitioners as it removes the healer from the equation, enabling pure Universal energy to flow through and providing the patient with optimum healing. Excellent to place under a healing chair/bed or next to the patient whilst healing is being carried out. One can also reiki through this crystal, which amplifies and purifies the energies. Fantastic for eyes, respiratory illnesses, allergies and asthma – have personally used it for all of the above ailments and it works FAST!
Approx 3.9cm long (39mm) X 1.2cm wide (12mm). You will receive the crystal in the photograph. We do not earn anything on P&P, charging exactly what we pay. These pieces need to be wrapped and sent small parcel weight as most won't fit through the 'large letter' slot. However, if we can get the package through at a lower postage rate, we will do and will refund any overpayment accordingly. Thank you 🙂