There is a new blend of minerals on the block and WOW, is it heart opening, soothing and uplifting.
There has been a find of high grade Lepidolite & Pink Tourmaline in Quartz from Madagascar. Both of these minerals are on my 'go to', must have list of crystalline energies to work with. I have worked with Lepidolite and Pink Tourmaline for over 20 years now. So to have them blended beautifully together in Quartz to amplify their energy is downright cool!!
Pink Tourmaline has long been my 'go to' for all things love related. I started out as most do with Rose Quartz, then moved on to Pink Kunzite, Mangano Calcite & Iron Rose Quartz. I will still, occasionally, reach for those crystals……. To me, however, Pink Tourmaline is the highest manifestation of Divine Feminine Energy in the Mineral Kingdom.
Pink Tourmaline encourages those of us who are too much into our masculine energy of control, structure, taking action, getting things done and being in our head to step out of the realm of the mind & understanding. It asks us, instead, to step into our heart and the realm of feelings ~ into the energy of experiencing love and beauty in all it's forms, of being in flow and revelling in our Divine Feminine Energy.
Working with Pink Tourmaline often requires deep work around our emotions as it will bring up anything that blocks us from giving or receiving love. This includes Divine Love as well as how love shows up for us in our day to day lives and relationships. Where Pink Tourmaline differs from other heart/emotion based crystals is it asks us to step into vulnerability and holds us beautifully when we take that courageous leap. It both softens and strengthens our Heart simultaneously. The energy works with us in whatever way we need it at the time. If there is a situation in my life that I feel may trigger me or bring up difficult emotions, I always wear my Pink Tourmaline pendant in order to stay in my heart and the energy of love, rather than fear. For those whom are focused on connecting with their Soul Mate or Twin Flame, this is THE heart based crystal to work with.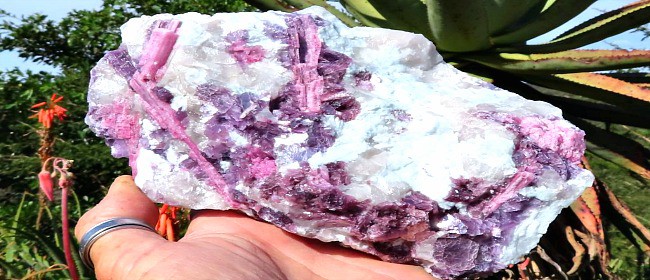 Lepidolite is equally amazing. It is an extremely special mineral because it contains trace elements of Lithium and the extremely rare alkali metals Rubidium and Caesium. These metals belong to the same chemical group as Lithium and all are highly reactive, which creates vibrations that respond to our body in an effective and positive way.  Lithuim Carbonate is used to treat psychiatric disorders such as bi-polar/manic depression and ADHD and in other medication as an anti-depressant or mood stabiliser.
Energetically, Lepidolite is extremely soft, tactile and gentle. It works primarily on our mental energy and thought patterns, easing anxiety, worry, nervous or agitated thoughts. This easing of energy in our mind feels instantly soothing to our physical body, nervous and emotional systems. It is fantastic for restful sleep or soothing us when we are experiencing stressful or emotionally heavy situations.
Blended together in Quartz, which is an amplifier of energy, I feel this mineral has come to the fore to support us in the self work required during this time of Ascension. These two minerals hold both our heart & mind in the highest vibration of calm, soothing, supportive, loving energies.
As we work on our thoughts and feelings, releasing that which does not serve us any more, healing that which was wounded in childhood, forgiving situations that have happened in our adult lives ~ our heart opens up wide, flooding us with feelings of love and a knowing that everything is going to be alright. The Divine Feminine energy is rising in both women AND men, for we all have a balance of the masculine and feminine within us. For many, that part of our energy has been wounded or suppressed in some way. This beautiful blend of minerals supports us in stepping out of fear and into LOVE on every single level.
If they could make furniture out of this mineral, I'd ask them to carve an entire bed frame! Pink Tourmaline & Lepidolite in Quartz can be used during meditation, sleep, anytime, anyplace and anywhere. It truly helps us in keeping our mind focused/calm and our heart open to love flowing in and out in equal measure.
Brightest of Blessings
Krissy XXX
CLICK HERE to see Pink Tourmaline & Lepidolite in Quartz in Stock