A Record Keeper crystal is distinguished by triangle shaped markings on one or more of the crystal's faces.
The "recorders" (as the markings on these crystals are referred to) may look like a raised area on the face, but if we run our hand over it, we often can't feel it at all. This is why record keepers often go unnoticed, and will sometimes only reveal themselves when they come into the hands of the person they are meant for. There are other crystals that have many triangles on them, often a multitude that look like etchings. These are incredibly powerful and effective channelling or meditation tools.
If you want to look for a recorder on a crystal, you should hold the face to the light, and turn it slowly, observing all angles. Look very carefully and you may just find a hidden secret in the shape of a pyramid 🙂
When the triangle faces upward toward the point, this indicates the information the crystal will reveal is related to the past. If the triangle is pointing downward away from the point, this is called a Trigonic and is likely to access information about the future.
There have been rumours for many years that we programmed and channelled with these crystals in a previous lifetime, leaving them marked with triangles. When reborn into our current lifetime, we gravitate back to the Record Keeper crystal to pick up the information we left in our previous life. A Record Keeper is a definite tool for past life regression if ever there was one! I have had some pretty strange and wonderous experiences with them 😉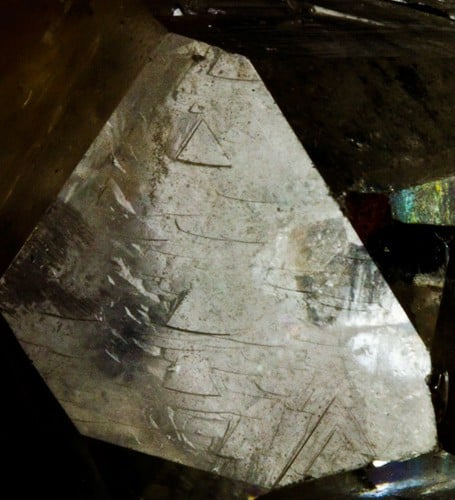 It is believed that a Record Keeper is one of the most sacred crystals because it holds the wisdom and knowledge of the universe. It is said that meditating with a Record Keeper whilst rubbing a finger over the pyramid, or tracing the shape of it continuously, will release information. I've found that sleeping with a Record Keeper under my pillow can bring information in dreams. I'll ask a question whilst holding the crystal before I go to sleep. In the morning, I'll pick the crystal up and quickly meditate with it to see if any answers are forthcoming. 
To use a Record Keeper, meditate with it, opening your mind to receiving. Sometimes what we receive from these crystals may not even be consciously known to us. Write down anything that comes to you when working with a Record Keeper and, if you can, make that information public. It may not make a lot of sense to one person, but that information could be the key another needs to move forward ~ or the information could be one part of a bigger puzzle. When sharing the information of a Record Keeper, I find they have an uncanny way of drawing the right people together for many different reasons.