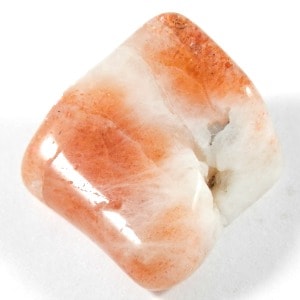 Sunstone ~ Polished ~ Item B
A gorgeous polished piece of high grade Sunstone. These pieces all have a depth of shimmer, colour and sparkle that the camera can't seem to capture! The energy is incredible and there is a lot of translucency so they're fabulous for the price. These pieces are small enough to slip into a pocket, pillowcase, but are a bit too chunky for a bra.
Sunstone is a wonderful energy to work with. It is said to regulate the nervous system and harmonize the whole body. Sunstone has properties that act as an anti-depressant, easing symptoms of depression or lifting our spirit when we feel low. It is a stone of manifestation and creativity. It resonates strongly with the solar plexus chakra and supports us in our efforts to trust others and the bigger picture. Creatively, its brilliant to carry Sunstone when in the flow of something creative…..it adds a dash of joy and enthusiasm to everything!
Approx 2.1cm (21mm) long X 2.1cm (21mm) wide. You will receive the crystal in the photograph.