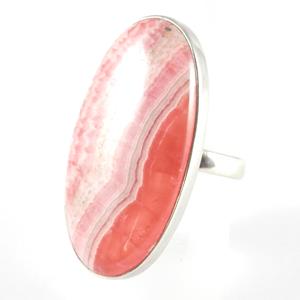 Rhodochrosite Ring – RARE – Item D – Size R.5-UK, 9-US, 59-EU
This is a gorgeous Rhodocrosite ring set in thick Sterling Silver. These rings are the highest, gemstone grade possible with a gorgeous deep pink colour and fabulous patterning. The energy makes my mouth water, they're really potent & raise a strong vibration of 'love' around the chest area, also igniting the Higher Heart Chakra.
On a physical level, Rhodocrosite is said to be good for food addictions, asthma, anorexia, the liver and renal system.  It is considered a soul mate crystal ~ although our soul mates aren't always romantic, they do teach us the lessons we most need to learn in life, good or bad.  Rhodocrosite is one of the most vibrant, loving crystals for use in healing where giving/receiving love is an issue.
Approx stone size 2.0cm (20mm) long X 1.5cm (15mm) wide. Ring size is in the main heading above. You will receive the ring in the photograph. I accept returns, no questions asked. Please note however that I do not offer a try before you buy service. People have taken advantage of this in the past and I've had to decline any further custom from them.
Please only purchase if the ring is your size or close to it. Obviously with rings, they have to fit comfortably, so am happy to exchange/refund no problem, but please respect this service. Thank you 🙂