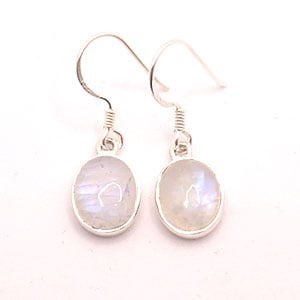 Rainbow Moonstone Earrings AA Grade – Item D
A lovely pair of earrings in Rainbow Moonstone. These are AA grade, which is really high and ensures there is amazing quality and energy to these pieces. Both earrings have delightful flashes of the famous bright blue colour associated with good quality Rainbow Moonstone. Really hard to capture in a photograph and I accept returns, no questions asked.
Moonstone is known as the 'Women's Stone' as it balances and promotes health with hormones, PMT, monthly cycles, pregnancy, breast feeding, childbirth and menopause. Moonstone gently draws in feminine energies and opens up our intuitive gifts. It is perfect for conception and fertility.
Each stone is approx 1.1cm (11mm) wide X 0.9cm (9mm) long – you will receive the earrings in the photograph.