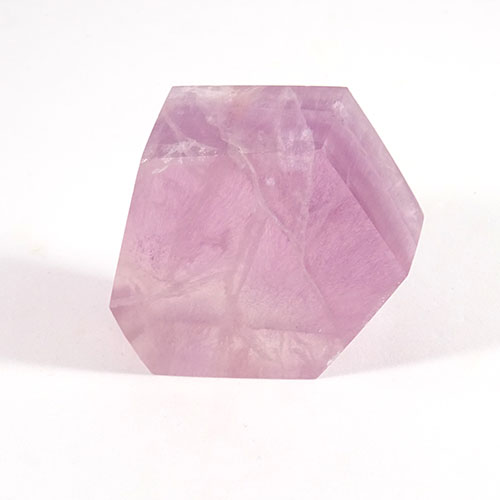 Pink Fluorite Facet – RARE – Item F
This is a beautiful piece of cut and polished, Pink Fluorite. The depth of colour and energy is stunning on these pieces. You can see from the photos which are pure pink and which are what they call pink magenta (which basically means pink and purple blended together). I'm not usually drawn to Fluorite these days, but the pink is SO rare and the energy of these pieces so heart opening and compassionate, I took every single piece that had even a hint of true pink within it.
Fluorite is THE stone when going through change, drama or chaos ~ so when we find it in it's rare, pink form, we know that piece of Fluorite is dedicated to helping us to ease emotional chaos and bring our central nervous system and feelings back into balance and a more harmonious place. Please click here to read my informative blog on Fluorite.
In particular, Pink Fluorite is said to aid the opening of the heart to clear old, stagnant emotions and wounding. If you're drawn to this beautiful mineral, it is time for you to let go of something on an emotional level. You have sat with or carried that feeling for long enough now. Pink Fluorite supports you in releasing what no longer serves you and then draws in forgiveness, compassion and gratitude for the lessons and ultimately, the freedom of emotional release. Pink Fluorite moves us towards having a more open heart, firstly, for ourselves. It promotes a gentle form of Self Love ~ and by this I mean TRUE Self Love ~ where we start to take action that show our mental, emotional and physical body are a priority in our lives and that we love ALL parts of ourselves. This takes time, for some of us, even years. So Pink Fluorite is an amazing mineral to work with for the long haul. I keep one of these pieces on the bedside table so it works on me subconsciously when sleeping ~ and then I consciously use it when practicing Qi Gong, yoga, breathing exercises or meditation as it draws in a beautiful, soft, almost blissful energy.
You will receive the crystal in the photograph. Approx 4.3cm (43mm) long X 4cm (40mm) wide.