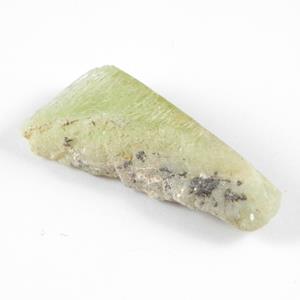 Peridot – Rough/Natural – RARE – Item G
This is a small chunk of natural Peridot, straight as it comes out of the ground. Small enough to pop inside a pocket, pillowcase or roomy bra. Peridot is usually available in very tiny pieces, so it's nice to find some rough, natural pieces that are a reasonable size and price to work with.
Please check sizing carefully as what is large to one person may be small to another and I wouldn't want anyone to feel disappointed.
Peridot is a detoxifying crystal that is excellent for the lungs, lymph glands, breast and heart. A regeneration crystal, it strengthens & protects physical body, aligns & balances aura field. Eases jealousy, anger, fear, anxiety & worries. A positive, abundant crystal.
Approx 3.0cm (30mm) long X 1.4cm (14mm) wide. You will receive the crystal in the photograph.