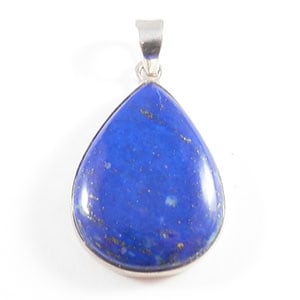 Lapis Lazuli Pendant – Item J
This is a gorgeous Lapis Lazuli pendant set in thick Sterling Silver. This is a high quality piece, so has a very deep, rich, blue colour and a strong energy.
If you would like to read my blog on Lapis Lazuli, please click here. 
Lapis Lazuli is traditionally excellent for tension headaches, migraine & anxiety caused by an over active mind. It is the best crystal around for issues relating to the mind, especially stress and mental indecision or anguish. It calms mental chatter if you find it hard to quiet the mind and is therefore good for insomnia and sleep disorders. Also excellent for stressed businessmen – men are drawn to this stone just as much, if not more so, than women. It is also really good for healing difficulties between two people in a relationship, bringing empathy and understanding of another person's experience and point of view.
Approx 3cm (30mm) long x 2.2cm (22mm) wide from top of bail to bottom. You will receive the pendant in the photograph.