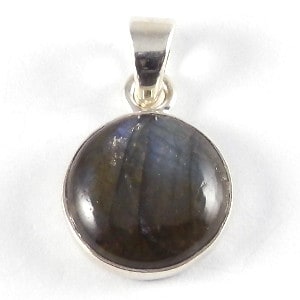 Labradorite Pendant – Royal Blue – Item K
This is a stunning, Royal Blue Labradorite pendant set in thick Sterling Silver. They don't come any better than this! The depth of flash and the vibrancy of colour are simply amazing (and I've seen a LOT of Labradorite over the decades). Fabulous energy too 🙂 The flash covers the entire piece too, not just part of it, both front and back.
This piece has a lovely energy & comes from Madagascar rather than the more commonly found Canadian or South American Labradorite. Labradorite is a magical, protective crystal. It enhances psychic abilities & increases one"s capacity to visualise. Can show the patterns that have created illness and help to release them, amplifying healing thoughts and prayers. This crystal draws you along your spiritual path, but in a fun, magical way. It alleviates stress and is said to lower blood pressure.
You will receive the pendant in the photograph. Approx 1.3cm (13mm) long X 1.3cm (13mm) wide from top of bail to bottom of pendant.