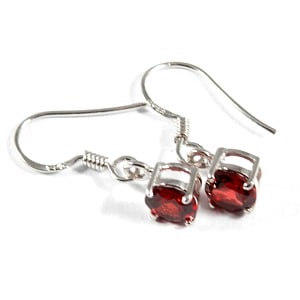 Garnet Earrings – AAA Grade – Item B
This is a gorgeous, faceted, round pair of Garnet earrings set in thick Sterling Silver. These are extremely high grade, with clarity and a deep, rich colour that can actually be seen as a vibrant red. They are darker in reality than in the picture, but I deliberately photograph them with light shining through so you can see the tone of colour and quality of stone.
Garnet is energising, a firey, motivational stone that asks us what we are passionate about and moves us towards our goals. Its a kick up the bum stone, good for circulation, the renal system, energy, passion and sexuality. It is one of the major crystals for promoting fertility and conception.
Approx drop 2.1cm (21mm). Approx stone size 0.6 cm long (6m) X 0.6 cm wide (6mm). You will receive the earrings in the photograph.