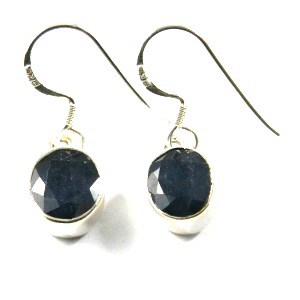 Blue Sapphire Earrings – Item A
A gorgeous, faceted pair of dangly earrings in natural Blue Sapphires, set in thick Sterling Silver. These are really high grade, they are transluscent and you can see through the gemstone when held up to light. They are a slightly darker/deeper blue in reality. I used a high flash to try and capture some of the shimmer and movement of light under the surface. These are pricey, but they're the highest quality we can currently obtain without £/$ 000s being added onto the price. It was the energy that grabbed me even more than the quality/colour. Brought my mind into crystal clear focus. So hard to photograph, so am showing another pair of earrings below to clarify the colour/translucency.
Blue Sapphire is said to be excellent for the eyes and vision. It is soothing to the nervous sytem, easing anxiety.  Blue Sapphire is a visionary crystal, excellent for those learning spiritual methods and exploring meditation, dream or psychic work. Brings focus and protection alongside the ability to manifest our soul's purpose. Excellent for Spirit connection and communication on all levels.
Stone size approx 1cm (10mm) long X 0.8cm (8mm) wide. Earring drop approx 2.5cm – you will receive the earrings in the photograph.