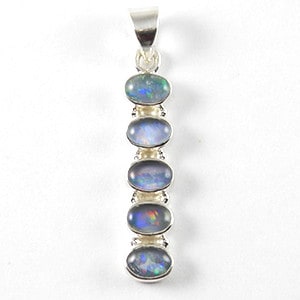 Australian Triplet Opals – Multi Pendant – Item C
This is an absolutely stunning, highly unusual Opal pendant set in thick Sterling Silver.  These are the highest grade possible from the Coober Pedy fields ~ the colour, flash and energy are outstanding! Photographing them has been a challenge as these pendants flash several layers of different colours. The photo doesn't do them justice! I have a no questions asked refund policy if you don't like it when it arrives as I appreciate it's hard to capture an Opal's true essence in a photo. It's very rare to find multi pendants of this quality and price.
Opal is excellent for skin disorders such as exzema, psoriasis & rosecea as well as skin, hair and nails. It draws in high vibrational energies, bringing emotional patterns to the surface to be healed or released. As most skin disorders tend to be triggered by stress/nerves, Opal is the perfect stone to explore why one might be unable to cope or are nervous. Opal is also a visionary stone and it helps one to feel spiritual guides more closely.
Despite many thinking Opals are bad luck, that was simply a rumour spread by the diamond merchants so people would buy their gems and not Opals. Opals are soft, so don't wear this pendant in the shower, swimming etc. If you do get it wet, just be sure to dry it off immediately and it will be fine. Keep in a dark, dry place when not wearing it and it will last forever. Wipe with a glasses cloth to clean.
Approx 2.7cm (27mm) long X 0.6cm (6mm) wide. You will receive the pendant in the photograph.