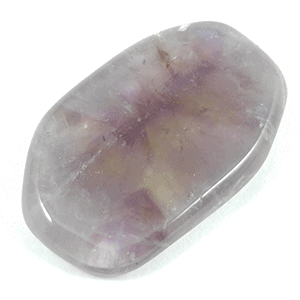 Auralite 23 Slice – RARE – Item G
This is a stunning, highest grade, polished slab of Auralite 23 from Northern Canada. It is 100% genuine and full of a great mix of ores. These pieces have so much inside them! Various inclusions, colours and rainbows ~ plus the price is a steal! It's difficult to find small pieces that don't weigh heavy as often, Auralite 23 contains iron deposits, which is why it can be so expensive.
These slabs are thick, highly polished and extremely tactile.  The flash washes out a lot of the colour, but I deliberately used a high flash so the different inclusions and colours can be seen (ie. it's not just plain Amethyst!). These slabs are a much darker colour/purple in reality. Many contain the hexagonal shape which indicates where another crystal has grown out of them.
Auralite-23 contains many silicate minerals and metal and are said to be 1.2-2 billion years old. Many geologists think that meteor impacts at the time brought rare metallic ores to the surface, where they dissolved over millions of years, incorporating into the Amethyst that was growing at the time, creating Auralite 23.
Predominantly purple, often mistaken for Amethyst, Auralite 23 can contain orange, red, brown, white or cream markings too. It is a powerful cleanser and healer of the chakra and energy system. Auralite 23 is said to heal on cellular levels and facilitate overall support for physically healing the body.  This is a powerful connection stone, particularly to our ancestors, Ascended Masters & Angelic Realms. Auralite 23 can aid personal development, spiritual development and intuition. It's a fantastic meditation tool.
You will receive the crystal in the photograph. Approx 3.4cm (34mm) long X 2.1cm (21mm) wide.