Kammererite (pronounced Kam ~ mer ~ air ~ ite) is the new old kid on the block. It has been around for a long time, but is a little known crystal that is in very few crystal books. It is also the first find we have had for metaphysical purposes in decades. Generally, the pieces are mined and snapped up by mineral collectors within hours. There is rarely, if ever, polished or single pieces for spiritual use. Even as a spiritual stone, it is sold by the gram!
Kammererite is part of the Chlorite family found mainly in the Scandanavian countries of Sweden, Finland and Norway, but also in Turkey. It was first discovered in 1841 and named after August Alexander Kämmerer, a chemist in the Mining Department of Russia. He was the author of several geological and pharmaceutical books.
In its crystalline form like the picture above, it is simply stunning. A gorgeous, shimmering purple colour ~ to find it in this form however is so incredibly rare, that pieces sell for huge amounts. A 3.5″ piece of the crystalline form would sell for around $400-600!
I've been working with this beautiful mineral and have to say, it is most definitely a spiritual stone of the NOW.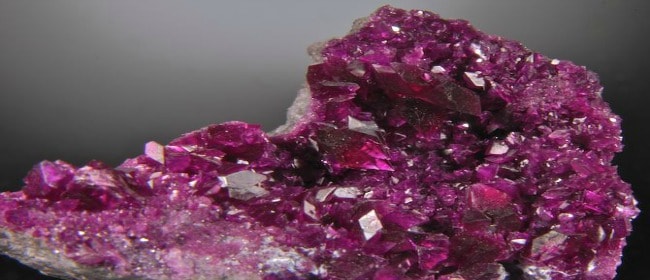 Kammererite has such a beautiful, unusual, different energy. I can actually feel it working on different areas of my body at different times, as if it is cleansing and clearing energetic blocks between the chakras and literally rewiring them again ~ only better than they were before!
It is most definitely a stone of spiritual development. It stimulates our third eye, crown and etheric chakras. I've also found that it seems to allow us to feel on all levels simultaneously, which makes it a fantastic divination tool. It allows us to see things from a higher, spiritual perspective allowing us to become more flexible and accepting ~ particularly if we have strong views or beliefs that were set during childhood. If we find those patterns and thoughts difficult to shift as an adult, then Kammererite is a stone that can help greatly.
Kammererite seems to sweep through the energetic bodies, but also penetrates into the physical body ~ this is extremely unusual! Most crystals work best on one spectrum or the other. Am pretty sure this crystal will work on a detoxifying level to clear out infection and help to rid our body of any bacteria that may cause illness. The one reference I've found in a crystal book says it alleviates pain and stiffness in muscles and joints and is also good for the male reproductive system, but as I don't have any of those things, I can't check that for sure 😉
Being part of the Chlorite group, Kammererite also helps to release anger, guilt, fear and negative emotions. It makes me smile and stop the 'monkey mind' ~ that in itself is a gift where my head is concerned 😉
If you fancy trying out something new that won't break the bank, work with Kammererite and please let me know how you get on.
With much love
Krissy XXX
Please Click Here to see what Kammererite is in stock 🙂