Black Tourmaline is THE strongest protection crystal in the mineral kingdom. It deflects negative energy away from a person or area very effectively and is also the best protection crystal to use when carrying out spiritual work or to protect an altar, home or area.
The word Tourmaline comes from the Sinhalese word Thuramali, which refers to various gemstones found in Sri Lanka. Tourmaline was sometimes called the Sri Lankan Magnet because it could attract and then repel hot ashes due to its pyroelectric properties. Black Tourmaline used to be called Schorl, before anyone realised it was part of the Tourmaline family.
Black Tourmaline was first discovered prior to 1400 near tin mines in Germany and can be found on most continents in the world. The use of Tourmaline in the East  dates back to the 18th Century when both India and China made carvings & statues and used Tourmaline in sacred ceremonies. In the West, usage dates back to the 19th century, when chemists used Tourmalines as a method to polarise light. It made its way into the gemstone world in 1876 when a piece was first sold to the famous jewellery company, Tiffany & Co. Tourmaline comes in a wide range of colours and each colour has a different meaning. Black, however, is THE best for protection and deflection of unwanted, negative energy.
If we work in an environment where there is a lot of negativity, then Black Tourmaline should be an essential part of crystal tool kit. Small pieces can be placed in the pocket, larger pieces around the home or on a desk at work. Carrying Black Tourmaline cannot prevent other people from behaving in a negative way, but it can deflect that negative energy back to the sender so we don't absorb it ourselves. It gives us the space to simply witness other's anger or negativity instead of being greatly affected by it.
Black Tourmaline is also excellent to place in protection grids around the home. Place two pieces either side of the front door in order to prevent negative energy from entering the home. If a neighbour is particularly difficult, place pieces of black tourmaline in the corners adjoining the neighbour's property to deflect any negativity. Place a piece in each of the four corners of a room to protect that room. If anyone is having nightmares and trouble sleeping, it could be due to negative energies or a ley line running through a property, in which case, place black tourmaline at the bottom of the four feet of the bed and it will prevent any negative energy from disturbing the occupant.
I was asked by a friend one day to come and feel the energy in her teenage daughter's bedroom because the young lady was having major problems sleeping and was convinced there was 'something' in her room. After dowsing around the outside of the property and then in the room itself, it appeared there was a ley line running directly through the bedroom and through the bed itself! It was small bedroom, so the bed couldn't be turned or moved anywhere where the line didn't touch. I used Black Tourmaline to grid the room and bed itself, using the natural rods/points that Black Tourmaline grows in to literally redirect the ley line energy and point it in a different direction. The young girl slept very well after that 🙂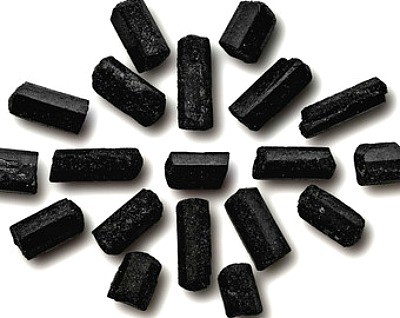 When programming or using Black Tourmaline, I always hold it in my hand, fill it with energy and ask it to 'ground, protect, deflect' and it seems to work wonderfully.
If Black Tourmaline is used in a grid, I would always use the rods or natural points like those above rather than a tumblestone. Its easy to then point a rod in the direction you want the energy to go. Place a rod going from the area or person who is negative and point it away from yourself, preferably into an empty space so you're aren't then directing that negative energy at someone else! When gridding a room and placing pieces in a corner, place the rod horizontally from edge to edge so its effectively blocking any energy coming into that corner.
Just remember that the grid is in place. The crystals should be cleansed & charged regularly (every two weeks) and the grid reset if it needs to be. Black Tourmaline is so powerful, it can often block any energy from entering a room. I'd take the grid down for a day or two before resetting it in order to let other energies flow into a room and see what effect the grid has had. If there is still negativity or an issue, then reset the grid and check again after two weeks.
Black Tourmaline is also THE stone to use for empathic people, light workers or anyone carrying out spiritual work that will expand their auric field. It can ground energies, bring the auric field back toward the body and ensure nothing negative or sticky gets caught up in our aura whilst we are working. Empaths, in particular, struggle not to take on other's emotions so should always carry a piece of Black Tourmaline until they are certain they can sense, but not absorb, other's energy.
I'll be blogging about some other 'Master' crystals over the next few months. Moldavite is the Master Transformer, Shungite is the Master Cleanser and Black Tourmaline is the Master Protector. These crystals are the absolute best at what they do. There are many other crystals and gemstones that can also transform, cleanse or protect, but when I call something a 'Master' ~ it is because it is simply the best & most powerful at one particular thing. The downside to these Master crystals is that they can be overwhelming or their energy too strong for those who aren't used to working with crystals. Please drop me a line if you need any advice on how to start working with them 🙂
Have a fab week and much love.
XXX
Please Click Here to see what Black Tourmaline is in Stock 🙂