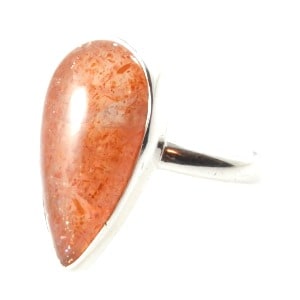 Sunstone Ring – Item C – Size R-UK, 9-US, 59-EU
A gorgeous natural Sunstone ring with tons of colour, sparkle and shimmer to it. It's so hard to capture the flash/sparkle in a photograph, but these pieces are some of the darkest, sparkliest Sunstone I've seen in years! Many have a rainbow shimmer to them from certain angles and there is no doubt that they have flash and sparkle as the entire surface is covered in it, rather than it only be certain patches or sections. The energy is incredibly vibrant & uplifting and these pieces look a lot better in person as the photos don't do them justice.
Sunstone is a wonderful energy to work with. It is said to regulate the nervous system and harmonize the whole body. Sunstone has properties that act as an anti-depressant, easing symptoms of depression or lifting our spirit when we feel low. It is a stone of manifestation and creativity. It resonates strongly with the solar plexus chakra and supports us in our efforts to trust others and the bigger picture. Creatively, its brilliant to carry Sunstone when in the flow of something creative…..it adds a dash of joy and enthusiasm to everything!
Approx stone size 2.1cm (21mm) long X 1.1cm (11mm) wide. Ring size is in the main heading above. You will receive the ring in the photograph. I accept returns, no questions asked. Please note however that I do not offer a try before you buy service. People have taken advantage of this in the past and I've had to decline any further custom from them.
Please only purchase if the ring is your size or close to it. Obviously with rings, they have to fit comfortably, so am happy to exchange/refund no problem, but please respect this service. Thank you 🙂