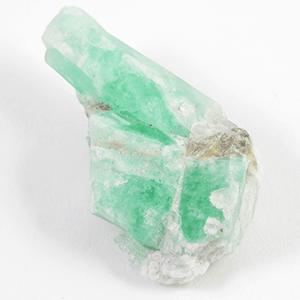 Emerald – Rough – AAA Grade – Item N
This is a stunning piece of natural, rough Emerald exactly as it comes from the mine. I have never seen Emeralds this vibrant and bright. If you pop the Emerald on the flashlight of a mobile phone, hold it up to bright light or use a torch, it literally glows and you can see straight through the piece. The energy is sublime and I've kept a bit for myself to go with this year's Vision Board, to draw in beautiful, high vibes and abundance.
Emerald carries a forward focused, creative, heart centred energy, which is what that will get us all through 2021! Some of these pieces have a little base rock on them, some even have tiny little babies of Iron Pyrite, which is often found with Emerald. Each piece will show this clearly in the picture. You can use a pin to pick away the base rock if you wish, but I prefer to leave it on the mineral myself as it protects it a little more over time & doesn't detract from the energy of the Emerald at all.
Emerald balances emotional turmoil and the confusion of time and space. Emerald centres us in our hearts and keeps us in the present moment so we don't dwell on past emotional pain nor worry about the future. Emerald intensifies the Chakra energies and opens us up to deeper spiritual insight. It brings prosperity, tranquility, compassion and balance. Emerald protects against temptation and seduction and is the stone of rejuvenation,  keeping us feeling young and our heart's open to what the Universe has to teach us. It also restores confidence in the young and is excellent to use after emotional trauma.
You will receive the crystal in the photograph. Approx 3.2cm (32mm) long X 2.3cm (23mm) wide.