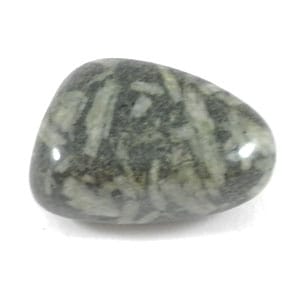 Chinese Writing Stone – Item B
A lovely, polished piece of the unusual Chinese Writing Stone.
This piece has a very unusual energy that I really like. It is a Limestone matrix with Andalusite crystals, which are what makes the patterning that looks a bit like Chinese writing. 
It is very soothing and calming, aiding deep sleep and restful, pleasant dreams.  Chinese Writing Stone brings about emotional balance by bringing acceptance & adaptation to change. It is a creative stone that keeps our goals aligned to our higher purpose. Once connected to a piece, it can help us access ancient records and events via meditation. 
You will receive the crystal in the photograph. Approx 2.5cm (25mm) long X 1.7cm (17mm) wide.