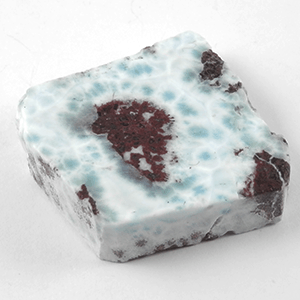 Larimar AAA Grade Slice – Item B
This is a stunning slice of AAA Grade Larimar. The energy and colours are out of this World. These are thick slices that haven't been polished, so they feel really soft, smooth, tactile and I can't stop fiddling with my piece when it's in my pocket. It literally feels soooooo soothing to sit and stroke it. These particularly pieces are really thick too, so they are robust and can be used in crystal grids and healings with great results.
Larimar is excellent for soothing and healing our emotions. It can lift feelings of depression, apathy or feeling run-down. Larimar is an earth crystal, connecting to feminine energy, nature and our planet. It provides patience, simplicity & peace. Excellent for worn out women or mums.
Approx 4.3cm (43mm)  long X 4.1cm (41mm) wide. You will receive the crystal in the photograph.