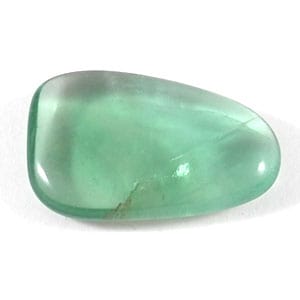 Green Fluorite – Polished – Item G
This is gorgeous piece of polished Green Fluorite. The flash washes out some of the colour in the piccie so this piece is a little darker in reality. It has the most beautiful, comforting energy.
Fluorite is THE stone when going through change, drama or chaos. Please click here to read my informative blog on Fluorite.
It brings orders to things, allowing us to think of one issue and a time, deal with it and move on to the next – instead of 10 things at once! Fluorite is excellent for eye problems, detoxification & lung/chest disorders. It clears the mind of stress from fast paced living. Opens the higher chakras, cleansing & recharging them. Green Fluorite, in particular, is good for those who didn't feel loved or supported enough by their mother during childhood.
You will receive the crystal in the photograph. Approx 3cm (30mm) long X 1.5cm (15mm) wide.