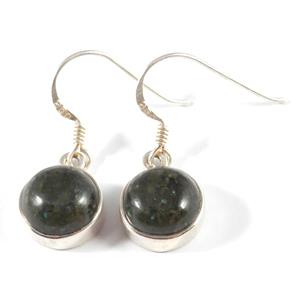 Galaxite (Micro Labradorite) Earrings – Item C
This is a beautiful pair of Galaxite drops set in thick Sterling Silver. Galaxite is notoriously hard to photograph, but these earrings is covered in tiny flashes of blue and green.
Galaxite is micro Labradorite from Labrador in Canada, where the stone was first discovered. Most Labradorite has large waves or swirls of iridescense whereas Galaxite has lots of tiny little flecks that are naturally present. It is SO hard to capture the sparkle in the picture, but I promise this piece has tons of them in peacock greens and blues 🙂
On a physical level, Galaxite releases stress and anxiety from the mind and body, eases anxiety or nervous system based illnesses. It supports healthy digestion and the absorption of minerals. Galaxite is said to cleanse, balance and protect the aura. It is a wonderful crystal to use during times of change or spiritual development. Galaxite is a stone of transformation, bringing a touch of magic and adventure to our spiritual path.
You will receive the earrings in the photograph. Approx 1.0cm long (10mm) X 1.0cm (10mm) wide.