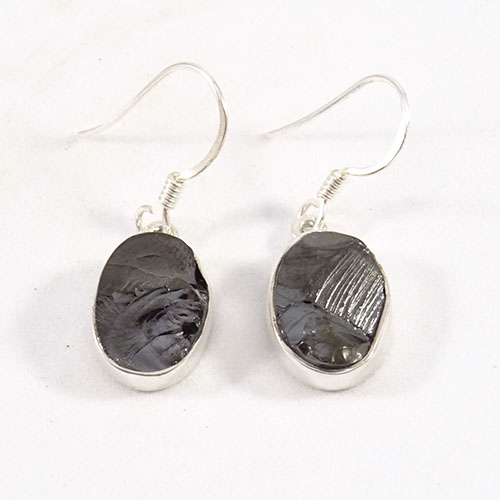 Elite Noble Shungite – Sterling Silver Earrings – Item C
This is a gorgeous pair of Elite Noble/Military Grade Shungite earrings set in thick Sterling Silver. These are the first, high quality, Elite Noble Shungite earrings I've seen on the market and they're really lovely.
This is a very powerful crystal that can make us feel a bit strange at first. Shungite has a very unusual energy that connects not only to the crown, but the etherics above and below our body. This grade is expensive, but the energy is well worth it 🙂
Please click here to read my informative blog on Shungite 🙂
Shungite is an amazing stone, and one that is beneficial to a healthy life. It is the only known natural material known to contain fullerenes, which are powerful anti-oxidants. Fullerenes were brought to our attention when research on them gained scientists a Nobel prize. This is because the fullerenes in this stone will cleanse water then infuse it with a potent healing vibration. The energy embodied within this ancient stone (approx 2 billion yrs old) is said to absorb and eliminate anything that is a health hazard to human life. This stone will help anyone who wishes to do magical and mystical practices as its deep primordial energy brings ancient spirits into the process in a protective role. It is said to aid those who read the future and will help to emphasize the gift of prophecy. It is a stone that has a strong earth connection and its ancient heritage means that it brings the ancient earth mystical energy into play.
You will receive the earrings in the photograph. Approx stone size 1.3cm (13mm) long X 1cm (10mm) wide. Please check sizing carefully.