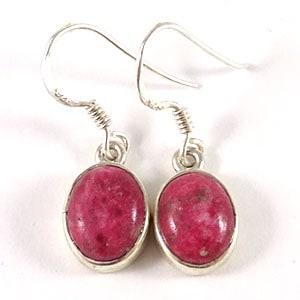 Thulite Earrings – RARE – Item B
These are a lovely pair of Thulite dangly earrings, set in thick Sterling silver. A lovely energy that is very grounding and stabilising.
Excellent crystal to use for releasing and healing childhood issues. If there is any illness or emotional trauma caused by lack of nurturing, abuse or abandonment, then this is one of the best crystals to work with. It is a gentle crystal that brings you into harmony with your own self and past actions. Thulite is primarily a heart based crystal, so opens the heart to love and be loved, relieves loneliness, inspires passion and sexuality. Its also, surprisingly, a good meditation crystal – especially for getting in touch with damaged parts of the self in order to heal.
You will receive the earrings in the photograph. Stone size approx 1.3cm (13mm) long X 0.9cm (9mm) wide.