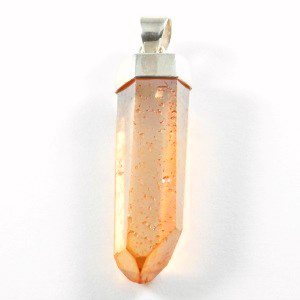 Sunshine Aura Quartz Point Pendant ~ RARE ~ Item D
This is lovely Sunshine Aura Quartz point capped in thick Sterling Silver. The energy, depth of colour and clarity are simply outstanding.
If you would like to read my informative blog on Aura Quartz, please Click Here.
Sunshine Aura has a beautiful energy that resonates strongly with our solar plexus. It encourages us to look at how we take responsibility for our own happiness instead of placing it on others. Sunshine Aura promotes self confidence, good self esteem, trust in ourselves and others and is a stone of joy, happiness and love of life. Sunshine Aura is inspiring, connecting us to our power of creativity and encouraging us to bring those ideas out into the open. I can't help, but smile when working with Sunshine Aura. Pebbles of Sunshine Aura are great to keep on a pocket and take with us on a regular basis. Larger clusters can be used in manifestation grids or crystal body layouts.
You will receive the pendant in the photograph. Approx from bail to tip ~ 4.7cm (47mm) long X 1.2cm (12mm) wide.