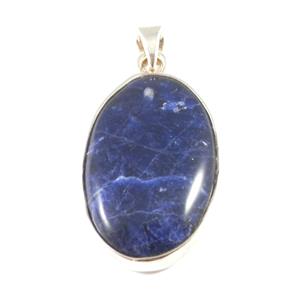 Sodalite Pendant – Item B
Categories
A-Z of Crystals and Minerals, Crystals, Pendant, S, Sodalite
Tags
calcium deficiency, communication, insomnia, metabolism, panic attacks, throat, thyroid
A beautiful, really high quality piece of polished Sodalite set in thick Sterling Silver. We don't often see small, cost effective pieces in jewellery and it has a lovely, stable energy. The pendant is a bit darker in reality, but I took it with the flash so you can see the patterning clearly.
Sodalite brings order and calmness to the mind.  It encourages rational thought, objectivity, truth and intuition.  Sodalite can bring emotional balance and calm panic attacks, allowing us to communicate how we feel rather than being overwhelmed by emotion.  It enhances self-esteem, self-acceptance and self-trust. On a physical level, Sodalite is said to balance the metabolism, boost the immune system and overcome calcium deficiencies.  Sodalite treats the throat, vocal cords, larynx and helps with hoarseness.  It has been known to cool fevers, lower blood pressure and stimulate the absorption of body fluids.  Sodalite can also help to prevent insomnia and works really well in combination with Howlite if you're having trouble sleeping.
Approx 3.7cm (37mm) long X 2.9cm (29mm) wide. You will receive the pendant in the photograph.