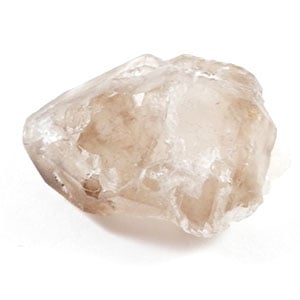 Smoky Quartz Elestial – RARE – Item E
This is wonderful piece of Smoky Quartz Elestial. It is natural, straight as it comes out of the ground. These are smaller pieces, which are incredibly rare (although please check sizing carefully). Usually Elestials are much larger and very expensive. This little cutie could easily popped in a pocket, handbag or laid on the body. These aren't pretty crystals, but they are powerful.
There is an aspect of revealing things that are hidden when working with an Elestial and these pieces want to take me deep inside myself. Smoky Elestials are one of the hardest Elestials to source so I'm delighted to have found these beauties as not only do they take us inwards, but they clear the negative energy of whatever we release when working on ourselves! The flash washes some of the colour out of the photo so these pieces are slightly darker in reality with some incredible patterning. Many of these particular Smoky Elestials have Enhydro bubbles in, but as I've lost my magnifying glass, am only able to see those that are visible to the eye. If I can't see the bubble, I won't sell it as an Enhydro, but please do check as you may be able to find some within your piece.
I find the Elestial pieces are excellent when we are working with mental thought patterns and the mind, whilst the Enhydro Elestial pieces are fabulous when we're dealing with the emotional realm. If you'd like to read more about their special qualities, please Click Here.
A Smoky Quartz Elestial will cut through negativity, is very protective and can facilitate deep healing on all levels. Smoky Quartz is an excellent tool for releasing stress – not only does it dispel negative energies, but it draws in positive energy afterward. Good for fertility problems, reproductive balance and PMS. A crystal with very strong male energies, it can open the crown chakra, energising the chakra system, yet is protective and grounding at the same time. A Smoky Elestial is a powerful tool for self awareness and healing, but you have to be ready to work with your dark as well as your light and find your power and gifts in the shadows. These powerful metaphysical tools do not allow us to stick our head in the sand or wear rose tinted glasses. I found mine particularly helpful after the break up of a long term relationship. It allowed me to develop spiritually, to heal personally, but to also look at and accept where I had gone wrong and see how I had given up my power.
You will receive the crystal in the photograph. Approx 3.5cm (35mm) long X 2.5cm (25mm) wide.