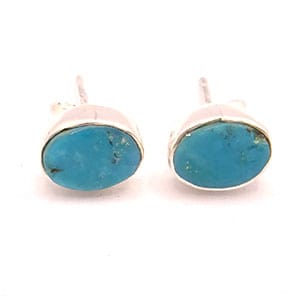 Sleeping Beauty Turquoise Stud Earrings – Item E
Sleeping Beauty Turquoise is one of the most sought after forms of Turquoise due to its naturally bright, vibrant hue of blues and excellent quality. This is a gorgeous pair of stud earrings set in thick Sterling Silver. They are polished cabachons of natural SB Turquoise, not a mix of bits of Turquoise that have been stuck together. I say this as the patterning of some of the pieces is crazy, but I love it 🙂 There is amalgamated Turquoise out there, but these pieces are natural.
I stock this form of Turquoise or Mexican Turquoise as the market is being flooded with fake stones.  Sleeping Beauty Turquoise is from a mountain of a similar name in Globe, Arizona, USA and there is no doubting its quality or authenticity. The Sleeping Beauty mine closed in August 2012 (click here for information) so obtaining Turquoise jewellery of this quality and at this price will soon be impossible. The price has quadrupled since the mine closed.
To read my informative blog on Turquoise, please Click Here.
Turquoise is the stone for self-forgiveness, self-acceptance and the release of useless regrets. It is good for protection, communication and travelling and helps to oxygenate the blood & lower blood pressure. If someone were taking a journey or travelling, I'd recommend wearing or taking a piece of Turquoise.
You will receive the earrings in the photograph. Approx 0.8cm (8mm) long X 0.6cm (6mm) wide.