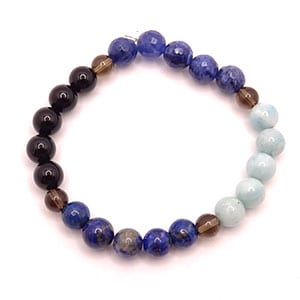 Serendipity Crystals Bracelet – Anxiety & Worry
I am delighted to stock these gorgeous, high quality, pure crystal bracelets. Serendipity Crystals Bracelets is now run by an older couple who are retired & work from home. They are the most beautiful people with Joan being an amazing healer who has worked with crystals for many years and her hubby, Chris, who is the divine masculine creative drive & maker. Both work with the highest energies and integrity. They only use the best quality crystals, often sourcing more expensive beads in order to maintain the quality and energy of their jewellery.
Serendipity Crystals Bracelets are made using 'plastic elastic', which is effectively a form of fishing wire. It is therefore incredibly flexible, strong and stretches, but rarely breaks so there won't be any incidents of crystals bouncing all over the floor. I've even caught my bracelet on a door knob several times and walked a few paces, only to be pinged back to unhook it! If there is ever any size or damage issues from general wear & tear, Chris is always on hand with a fix and has a really fast turn around. He also makes all of our EMF protecting Shungite bracelets Here.
We prefer to source our own beads & make the bracelets from scratch as a) it gives Chris & his lovely wife a small income in retirement, b) we can offer a custom, personalised service and c) we can control the quality & energy of the crystals & elastic to ensure they are always the best on the market. Most bracelets are made with rubber elastic, which frays over time. Serendipity Crystals Bracelets will last many many years rather than fall apart after six months wear as the elastic has degraded. If the plastic elastic we use isn't tugged or pulled (always roll the bracelet on & off the hand rather than pulling it wider to get it on), these lovely bracelets remain the same size, never stretching over time like most on the market.
This bracelet is for ANXIETY & WORRY, to soothe emotions, calm the mind and release tension in the body and has been created using the following crystals:
AMAZONITE
This is a calm and soothing crystal. It is useful in dispelling negative energies. The energies of Amazonite are the energies of the Warrior. Good for creativity and helps stress, nervousness and a troubled mind. It raises our energies of love to universal love and encourages us to see all points of view, also beneficial for heart problems and strengthening the immune system.
ONYX
Onyx is known to be good as a mental tonic that lessens fears and worries. Known to be good during times of physical stress & bereavement. It also produces strength and support during difficult circumstances.
SMOKEY QUARTZ
A very important crystal, which has many meanings. One of which is that it is useful for alleviating anxiety, stress and worry in difficult Circumstances. It can help dissolve negativity, and also helps with depression and despair.
SODALITE
Ones of its meanings is believed to help to overcome anxiety attacks & phobias, good for calming and self-esteem.
CLEAR QUARTZ
Clear Quartz is a master healer and can be used for any condition. It stimulates the immune system and brings the body in to balance.
LAPIS LAZULI
Eases insomnia, soothes the mind, good for stress headaches and helps relationships. It improves the quality of life, makes you feel happier, and re-energizes in all situations.
Each bracelet comes in a pretty organza pouch, with a small print out that details full information about each crystal as above.
Serendipity Crystals Bracelets comfortably fit most wrists, but as these items are hand made, they can be made to order if you have a particularly large or small wrist. Please drop me a line via the feedback/contact form if you'd like us to custom make one for you. Thank you.