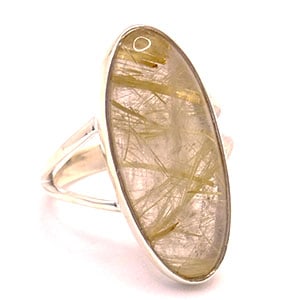 Rutilated Quartz Ring – Item D – Size P-UK, 8-US, 56-EU
This is a stunning Rutilated Quartz ring set in thick Sterling Silver. These pieces are shimmering, shining, crystal clear Quartz with strands of pure, bright yellow Gold within them. These are the highest quality pieces I've seen in jewellery in a long time ~ the clarity and thickness/brightness of the Gold is superb. Each piece is unique and throws out quite a lot of positive energy.
To read my informative blog on rutilated quartz, please Click Here.
The ethereal aspects of rutile bring strength with love, allowing us to feel vulnerable, yet protected and safe. Rutilated Quartz eases us in transition & during times of change, facilitating growth in all avenues of our development. Rutile brings calm, reason and order and is often used for healing and balancing the aura by repelling negative energy. It affects the physical, etheric and astral bodies and assists us in getting to the root of a problem or illness. Gold in particular releases negativity and anger and helps us to manifests things in our physical, human world.
Approx stone size 2.6cm (26mm) long x 1.1cm (11mm) wide. Ring size is in the main heading above. You will receive the ring in the photograph. I accept returns, no questions asked. Please note however that I do not offer a try before you buy service. People have taken advantage of this in the past and I've had to decline any further custom from them.
Please only purchase if the ring is your size or close to it. Obviously with rings, they have to fit comfortably, so am happy to exchange/refund no problem, but please respect this service. Thank you 🙂