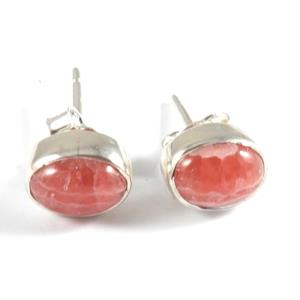 Rhodochrosite Stud Earrings – AAA Grade – Item B
This is an absolutely stunning pair of Rhodocrosite stud earrings set in thick Sterling Silver. They are a solid, gemmy pink and have the most beautiful energy.
On a physical level, Rhodocrosite is said to be good for food addictions, asthma, anorexia, the liver and renal system.  It is considered a soul mate crystal ~ although our soul mates aren't always romantic, they do teach us the lessons we most need to learn in life, good or bad.  Rhodocrosite is one of the most vibrant, loving crystals for use in healing where giving/receiving love is an issue.
You will receive the pendant in the photograph. Approx 0.9cm (9mm) long X 0.6cm (6mm) wide.