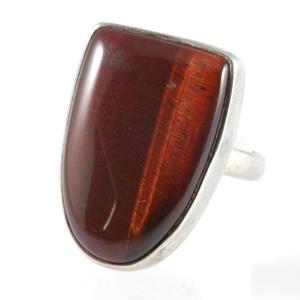 Red Tiger's Eye Ring – Item A – Size N.5-UK, 7-US, 54-EU
This is a gorgeous, polished Red Tiger's Eye ring set in thick Sterling Silver. It has the most beautiful flash and play of colours and a very strong, stable, supportive energy.
Tiger's Eye is good for the digestive system, stomach ulcers, IBS etc. A crystal with strong male energies and therefore imbues the wearer with inner strength. Aids confidence, creativity, willpower, self-belief and self-esteem. It also has excellent protective properties. Draws in wealth & prosperity.
Approx stone size 2.4cm (24mm) long X 1.7cm (17mm) wide. Ring size is in the main heading above. You will receive the ring in the photograph. I accept returns, no questions asked. Please note however that I do not offer a try before you buy service. People have taken advantage of this in the past and I've had to decline any further custom from them.
Please only purchase if the ring is your size or close to it. Obviously with rings, they have to fit comfortably, so am happy to exchange/refund no problem, but please respect this service. Thank you 🙂