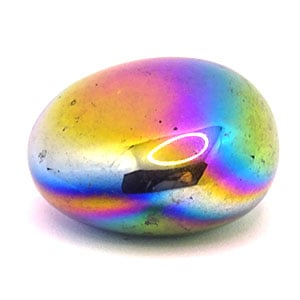 Rainbow Aura Quartz Pebble – Item S
This is a stunning pebble of the rare Rainbow Aura Quartz, a mineral that can't help, but make me smile and think of the more joyful, playful things in life. These pebbles are an amazing, versatile way to work with this joyful energy. Each is unique and a slightly different size, so please check sizing carefully.
If you would like to read my informative blog on Aura Quartzes, please click here.
This crystal is top grade Brazilian quartz that has been permanently bonded with a layer of atoms of Titanium. The colour will never fade or come off. Points are twice the price of clusters as it is a lot more complicated to coat smaller pieces of crystal.
Rainbow Aura Quartz can send a frission of energy through all chakras, stimulating and clearing blocks. It helps physically to bring in extra energy and vitality. It encourages humour, relaxation and enjoyment of life. If you've been feeling down or miserable lately, this crystal will bring much needed laughter and light heartedness. It is also a fantastic crystal to use when working with the inner child as it encourages us to be playful and have fun.
Approx 2.2cm (22mm) long X 1.8cm (18mm) wide. You will receive the crystal in the photograph.