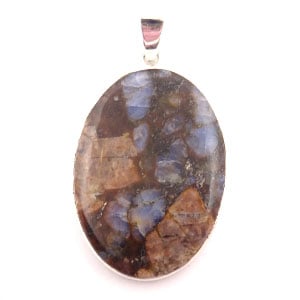 Que Sera Pendant – Item B
This is a gorgeous pendant of Que Sera set in thick Sterling Silver. There aren't many jewellery pieces in this highly unusual stone so I was delighted to find this piece. Que Sera is a mixture of various minerals including blue quartz, Calcite, Kaolinite, Magnesite, Clinozoisite and others. The energy is stable and beautiful.
On a physical level, Que Sera is said to be good for kinesiology & energy work. It eases stress, boosts our energy system and to be fair, due to being such a wide mix of combined minerals, it seems to offer huge healing and supportive energy on every level.  Que Sera opens us up to communicate with higher realms, making it a great psychic development too. It brings us awareness, but from a stable emotional base and clear mind. It is a very comforting crystal too. As a healing wand, it's fantastic ~ it just seems to know what it needs to do with very little direction. I got tired of trying to program it to be specific and instead, released the inner spirit of this crystal by simply asking it to work for the highest good.
Approx 3.5cm (35mm) long X 2.5cm (25mm) wide. You will receive the pendant in the photograph.