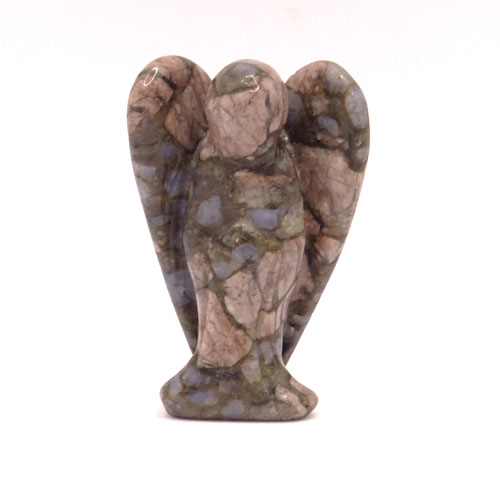 Que Sera Angel – 48mm – RARE – Item B
This is an absolutely stunning, hand carved Angel of unusual Que Sera stone. Que Sera is a mixture of various minerals including blue quartz, Calcite, Kaolinite, Magnesite, Clinozoisite and others. The patterning and energy of these pieces is beautiful!
On a physical level, Que Sera is said to be good for kinesiology & energy work. It eases stress, boosts our energy system and to be fair, due to being such a wide mix of combined minerals, it seems to offer huge healing and supportive energy on every level.  Que Sera opens us up to communicate with higher realms, making it a great psychic development too. It brings us awareness, but from a stable emotional base and clear mind. It is a very comforting crystal too. As a healing wand, it's fantastic ~ it just seems to know what it needs to do with very little direction. I got tired of trying to program it to be specific and instead, released the inner spirit of this crystal by simply asking it to work for the highest good.
Approx size 4.8cm (48mm) long X 3.3cm (33mm) wide. You will receive the Angel in the photograph. Please note that the postal charge for these carvings is set at small parcel rate for a 1st class, signed for parcel. This ensures the item is tracked and insured against loss. If we can get the parcel through the 2.5cm slot that means it will post at a large letter rate, you will receive an immediate postage refund as we only charge what is paid for P&P. We're also happy to post items at a lower postage rate such as 2nd class and again, will immediately refund any overpayment on P&P, please just pop a note in on check out. Many thanks.