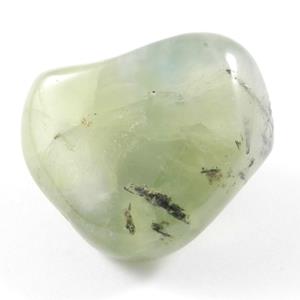 Prehnite & Epidote – Item T
Lovely, polished piece of high quality Prehnite, embedded with strands of Epidote. There is something so beautiful, dreamy and yet powerful about this mineral blend. Really heart opening and supports us in stepping up and going for our dreams. Each piece is unique.
Prehnite has a wonderful peaceful energy. It is said to heal the circulatory, lymphatic and urinary systems as it is deeply cleansing and detoxifying. Prehnite washes away old emotional attachments, negative energies & patterns, soothing worry, anxiety and stress.
Epidote releases patterns of negativity. It teaches us to positively change our thoughts, words and actions so life can be transformed. A powerful manifestation tool – you MUST ensure you have some of what you wish to manifest. Epidote will ensure it manifests rapidly.
Approx 2.8cm (28mm) long X 2.7cm (27mm) wide. You will receive the crystal in the photograph.