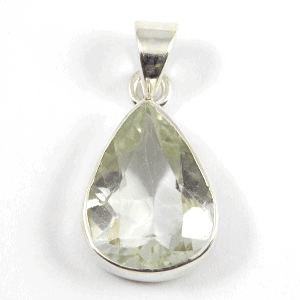 Prasiolite Pendant – Item H
This is a stunning Prasiolite pendant that has been beautifully faceted! It shimmers, shines and throws sparkles all over the place. I love it's subtlety and yet flashiness at the same time 🙂
Green Amethyst is called Prasiolite. Most on the market is heat treated, but I only sell the natural as it feels far nicer, even if it's more expensive. Prasiolite is excellent for clearing out old, stagnant emotional energy from our emotional system. This may leave us feeling a little raw or vulnerable, but in vulnerability lies some amazing gifts. If you've been stuck in the past or are finding a past experience or person difficult to let go, then Prasiolite can help enormously. This beautiful crystal amplifies positive energy, encouraging us to take action and move forward with confidence. It is also helpful when we are going through deep spiritual lessons. This stone passed through fire from one state of being and came out the other side in another state. Metamorphosis! That is exactly what we go through when we learn spiritual lessons that open our mind, expand our consciousness & raise our vibrations. It is a lovely crystal to use during times of transformation.
Click Here to read my informative blog on Amethyst and how it is working with us in 2021 and onwards.
You will receive the pendant in the photograph. Approx 1.7cm (17mm) long X 1.2cm (12mm) wide.