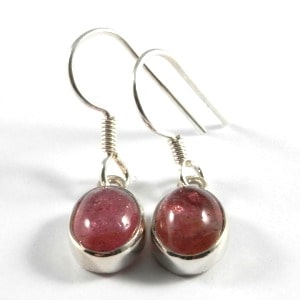 Pink Tourmaline Earrings – RARE – Item B
These are are a pair of gorgeous Pink Tourmaline earrings set in thick Sterling Silver. They are see through when held up to the light, a really deep, rich pink and have a vibrant energy. It's hard to obtain good quality earrings in this rarer, highly expensive mineral and these are an absolute bargain!
Pink Tourmaline is a stone of balance and calm. Emotionally, it helps bring emotional balance and helps open up, relax, and detach from personal pain. Pink Tourmaline brings abundance and is also a stone of passion, bringing passionate energy and love. Physically, pink tourmaline balances the body's electrochemical system, strengthens immune system, heals backaches, and reproductive system disorders, detoxifies the blood, assists with recovery, and eases the effects of radiation. I LOVE THIS GEMSTONE *grin*
Approx measurements of stone 1.0cm (10mm) long X 0.9cm (9mm) wide. You will receive the earrings in the photograph.