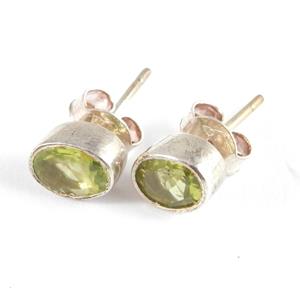 Peridot Studs – Polished – Item C
A stunning pair of polished Peridot studs set in thick Sterling Silver. These have a fabulous colour and energy.
Peridot is a detoxifying crystal that is excellent for the lungs, lymph glands, breast and heart. A regeneration crystal, it strengthens & protects physical body, aligns & balances aura field. Eases jealousy, anger, fear, anxiety & worries. A positive, abundant crystal.
You will receive the studs in the photograph. Approx 0.8cm (8mm) long X 0.6cm (6mm) wide.