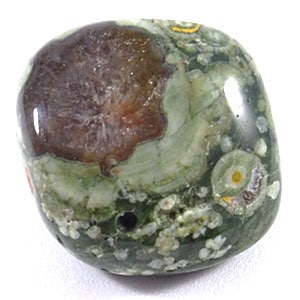 This is a beautiful polished piece of Ocean Jasper from Madagascar. These pieces all have gorgeous patterning, some crystalline pieces and spots/flowers. They are medium sized pebbles with fabulous energy that are almost spherical in shape ~ mini spheres!
Ocean Jasper is silicified rhyolite flow from off the northwest coast of Madagascar. It can only be seen and collected at low tide. The area has no road, so the material must be transported to civilization by boat. It was first written about in 1922 and than the location was actually lost for almost 80 years! Ocean Jasper is believed to teach responsibility and patience. It is very soothing and helps to love one's self as well as others. Very healing of the emotions and brings peace of mind. It helps with acceptance of responsibility and increases patience. Ocean jasper heightens awareness in addition to balancing and stabilizing one's ability to handle the input from increased awareness. It is excellent for Shamanic work and has a deeply rooted 'earth' energy. Physically, Ocean Jasper is beneficial to the digestive system and heart.
You will receive the crystal in the photograph. Approx 1.5cm (15mm) long  X 1.5cm (15mm) wide.