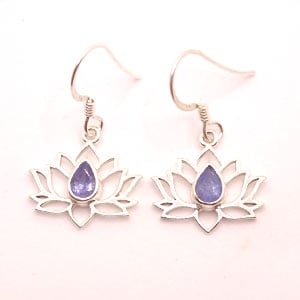 Natural Tanzanite Lotus Flower Earrings – Faceted – Item A
This is a gorgeous pair of natural Tanzanite earrings set in thick Sterling Silver. They are a gorgeous Indigo/purple colour. My supplier had these lovely little Lotus Flower earrings & pendants made in all sorts of minerals. The silver is really thick and the design is both beautiful & classy. Simply use the search engine to search 'Lotus Flower'.
Please note that Natural, NON TREATED Tanzanite is extortionately expensive so to find such an unusual pendant at this price, with this energy, is amazing! The colour of the pendant leans more towards purple than blue and is a bit darker than in the pic (the light from the flash washes some of the colour out).
Tanzanite powerfully opens us for clairaudience, visions, spiritual connection and all aspects of communication and psychic power. It provides protection and allows for manifestation. It is also said to relieve depression. Tanzanite is known to both dispel and transmute negativity and provides safety and protection during all activities. Tanzanite is also excellent if you can't decide between what our heart tells us to do and what our head tells us to do – it aids decision making and taking action.
You will receive the earrings in the photograph. Approx stone size 1.8cm long (18mm) X 1.7cm wide (17mm).