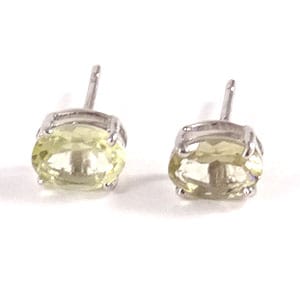 Lemon Quartz Studs – Item A
This is a gorgeous, faceted pair of AAA Grade studs in Lemon Quartz, set in thick, Sterling Silver. All of my jewellery is open backed so the energy can reach the skin. These pieces have a bright, uplifting energy and some are darker than others as these are natural rather than heat treated. The flash and sparkle is immense, whilst the energy is uplifting, but in a gentle, sparkly way and consistent over a long period of time, rather than a huge boost all at once.
It is an excellent crystal for the Solar Plexus and digestive system.  Lemon Quartz is excellent for creativity, it's a mood enhancer, uplifting, and positive. Clears the mind for a bright and focused outlook on the future. Strengthens the solar plexus and aids courage to speak with confidence.
You will receive the stud earrings in the photograph. Approx stone size 0.7cm (7mm) long x 0.5cm (5mm) wide.