Description
This is a stunning, hand polished Larvikite angel with fabulous energy. All of these angels have the flash & sparkle of high quality Larvikite, it's just hard to capture in a photograph. These are larger angels, so chunky hand held pieces that are the length of my palm.
Larvikite is Norwegian Moonstone. Is is an excellent crystal for student's as it expands our mental energy, helping us to retain & relay information effectively. Its also a spiritual awakening stone, bringing clarity and enhancing lucid dreaming, vision work and any form of psychic or spiritual development. It also has a strong connection to Earth energies, although it opens the Crown so we can reach for the stars so is a wonderful stone of balance.
You will receive the crystal in the photograph. Approx 7.5cm (75mm) long X 4.5cm (45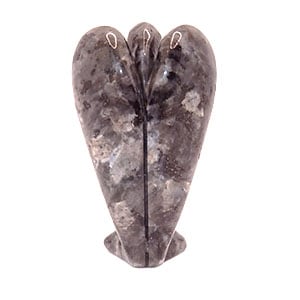 mm) wide.