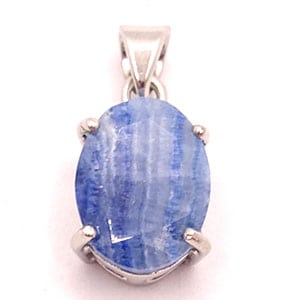 Lapis Lace Onyx/Scheelite – Pendant – Item C
This is a gorgeous pendant of Lapis Lace Onyx/Scheelite set in thick, Sterling Silver. It has been faceted and set by a master jeweller, which isn't easy with this particular mineral due to it's patterning and composition. There is so much to say about this crystal from it's being completely misnamed, to the gorgeous energy it contains. These gorgeous slices are all unique with a different pattern and blend. Every piece of this stunning stone has a wonderful, cleansing, supportive and uplifting energy.
Please click here to read my informative blog on Lapis Lace Onyx/Scheelite.
This gorgeous mineral blend is said to be detoxing, cleansing, clearing, good for bones, teeth, vitamin & mineral absorption and anything to to do with Calcium in the body. It is also said to support the good health of our digestive and reproductive systems. On a spiritual level, Lapis Lace Onyx is a stone of connection, strengthening our sense of self and clearing old, heavy emotions. We are encouraged to speak our truth from a place of calm, allowing us to deeply connect with ourselves, with Source, with our team of guides in spirit and other people who share our lives.
You will receive the pendant in the photograph. Approx 1.6cm (16mm) long x 1.2cm (12mm) wide.